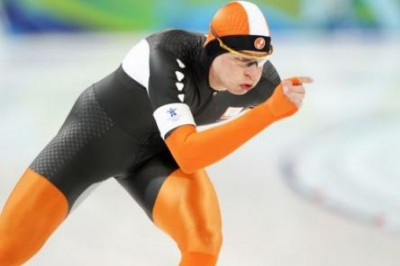 Whereas at the beginning of the Winter Games Sven Kramer of The Netherlands was widely seen to become the athlete winning the most gold medals, he did not manage to indeed become the king of the Games, mainly due to an unintended mistake of his coach. Local marketing buffs claim this mistake could turn out to be extremely expensive, costing him millions of dollars. I doubt whether this will be true; although his claim to international fame has not materialised to the extent he would have hoped, this should be more than compensated by his increased popularity at home, where he found a whole new bunch of supporters admiring him for the way he dealt with this issue.
Sven Kramer's disqualification at Olympics costing millions of dollars?? It wasn't meant to be. Dutch speedskater and national hero Sven Kramer did not manage to grab the three gold medals, he was predestined to win. Not because he was not the best…. The skater was well on his way to win his second gold medal when his coach made a big mistake by directing him into the wrong lane. As a result Sven was disqualified. Things turned worse in the team-pursuit, this time as a result of poor communication. Hence the world's best speedskater did not become king of the Olympic Games. According to sports marketeers like Frank van de Wall Bake, this will have big implications as far as his income is concerned. As Kramer has not become Vancouver's biggest star, the number of international endorsements (think cover on Sports Illustrated, international brands etc) will be significant less than anticipated, costing him millions of dollars. This is probably true from an international perspective, but these specialists fail to tell the entire story.
From star to icon: Sven Kramer's unknown hidden values. Sven Kramer has always been known to the public as an extremely talented and ambitious athlete, a bit cocky and a humorous guy. The Dutch always embrace their skating stars and Sven Kramer has not been an exception. However, what the Dutch audience did not know was how Kramer would respond and behave in case of a setback or misfortune. Kramer's enormous mature reaction after losing two gold medals has uncovered some hidden values that most people were not aware of: respect, dignity, responsibility and sportsmanship. Just after experiencing probably the biggest disappointment of his life, the guy was open to talk to the press, showing no rancour and behaving as a good loser. Moreover, a day later he was in good spirits with his coach and told the press that he and his coach had gone a long way and celebrated a lot of success. Clearly that could not be a reason for breaking-up. The way he dealt with this issue was one which only true big stars show. Sven lost two gold medals but gained an enormous amount of goodwill, well documented on television and on the internet. At once he gained thousands of additional admirers, probably elevating him from a star to an icon and role model.
Commercial exploitation of newly discovered values should compensate for the missed (international) income. These new values should undoubtedly make Sven Kramer more interesting for commercial purposes. Sven Kramer has shown the world he is extremely ambitious (like a sport star should be) but can also behave in a very responsible manner when taking an unexpected blow. He has shown he is authentic. No doubt commercial brands will use these values in their marketing campaigns, certainly in view of his increased and likely sustained popularity. Adding the new values and the popularity of skating in The Netherlands, this should lead to a longer and more sustained steady income flow going forward. I have no doubt that the discounted value of this stream of income will more than compensate for the loss of international endorsements. As speed skating is a very small sport globally, these endorsements will rapidly decline over time anyway.
Market value of Sven Kramer likely to increase further. Sven Kramer has lost two medals but gained tremendous appreciation. The guy is still young and has broken already all the records you can imagine. I would not be surprised when he will come back with a vengeance in Sochi. Rather than from "hero to zero", I would like to say "claim to fame". No matter what happens, Sven Kramer will end up in the row of the true big champions in skating like Ard Schenk, Johan Olav Koss and Eric Heiden. Soon Kramer and company will launch a new commercial brand named SvenK. Oakley, Giant and Viking are rumoured to have already closed deals with this brand. I am sure they are to be followed by many more over the coming years.