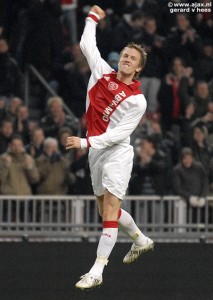 Recently Delloite published its annual Football Money League for the 2008/09 season, in which it profiles the European football with the highest revenue base. Simultaneously the Dutch National Football Union (KNVB) came out with the financial performances of Dutch football clubs. Not surprisingly the revenue gap of Dutch clubs compared to European clubs is substantial and has further increased. Ajax and PSV are leaders within The Netherlands as far as revenues are concerned. Will these teams ever be able to bridge this revenue gap?
Revenues are a fair indication of a club's relative size. The Deloitte Football Money League is using revenues from day to say football operations to determine a clubs' relative size. It believes revenues provides the best publicly available financial comparison, rather than fan-base, attendance, broadcast audience or on-pitch success. We tend to agree; revenues are a reflection of aforementioned elements. Moreover revenues are extremely important to the continuing existence of a football club. As fixed costs such as personnel costs (player salaries!) and stadium rent often take up as much as 90% of  total revenues, revenue maximization guarantees not only the ongoing existence of the club but is also providing a good base to improve the on-pitch success and hence fan-base, attendance etc. In this perspective it is not surprising to see that most of Europe's top clubs (measured in revenues) have been able to grow faster than the second tier clubs.
The rich clubs growing faster than the poor ones…..When analyzing the current top 20 European football clubs measured by revenues, one can conclude that these clubs as a group have grown by 8% over the last 2 years. As a comparison the Dutch Eredivisie has grown 7.7% over the same period. The problem is not so much to be found in the relative growth as it is compared to absolute growth. The top 20 in Europe saw their turnover grow by EUR 290mln, whereas the 18 clubs in de Eredivisie saw their revenues increase by only EUR 30mln. To put it into perspective, Ajax was able to grow its revenue base by EUR 2.3mln from EUR 64.9mln in 2006/07 to EUR 67.1mln in 2008/09, whereas the number 1 in the league, Real Madrid noticed a EUR 50mln increase from EUR 351mln to EUR 401mln. This implies that Real's increase in sales almost equals Ajax entire turnover level. We can put it differently; The clubs in the five countries with the highest average club turnover for the 2007/'08 season (England, Germany, Italy, Spain and France) represent 13% of the 732 clubs in the 53 highest divisions in Europe, but generate 69% of the € 11.5 billion total European turnover. No doubt the differences will grow further in the future in case there aren't any changes. The rich will get richer…… It means the slow emergence of a super league consisting of clubs out of the aforementioned big leagues.
Market size essential for revenue generation. This is logical! Sponsors are attracted to the biggest markets and are willing to pay for this! For media the story is not that different; media companies are willing to pay big bucks for those clubs or in those countries, where there are most viewers. Analyzing the build-up of revenues of the top 20, 26% is derived from matchday revenues, 42% from media revenue and 32% from commercial activities. When comparing the Dutch league (Eredivisie), this compares with 27% from matchday, 12% from media and 51% from commercial activities. No doubt the biggest difference can be found in Media income. The average Dutch Eredivisie club receives EUR 2.9mln (ranging from EUR 1.1mln to EUR 6.7mln) in media income vs EUR 82.4mln (ranging from EUR 22mln to EUR 161mln) for a European top 20 club! Or to put it differently; Real Madrid's media income of EUR 161mln alone already is 2.4x bigger than the total annual revenues of Ajax.
Gap with top 20 still substantial. Well now, would Ajax be able to bridge the gap with the European top 20? Let's first look at where the club currently stands. As stated, Ajax generates annual revenue of EUR 67.1mln. This compares with EUR 401mln for the number 1 Real Madrid and with EUR 101mln for the number 20 Newcastle United. This also shows the huge differences within the top 20. In fact the top 11-20 all generate less than EUR 150mln. So in order to enter the top 20 Ajax should generate around EUR 35mln turnover. Clearly the easiest way to victory would be to participate in the Champions League. 13 clubs out of the top 20 played in the Champions League last year generating around EUR 37mln on average in additional revenues. Even PSV Eindhoven generated around EUR 36mln in Champions League income. In comparison Ajax generated only EUR 5.1mln from European football last year. Playing group levels in the  Champions League could hence lead to a top 20 place in Europe or at least very close to it. Nevertheless, it remains the question to what extent such a position would be sustainable. We should not forget that the number 18 Borussia Dortmund (revenues EUR 104mln), number 19 Manchester City (revenues (EUR 102mln) and the number 20 Newcastle United (revenues EUR 101mln) all generate these revenues without having played Champions League either. Hence it should be Ajax' target to grow towards these levels even without playing Champions League. Can this be realized?      
| | | | | | | |
| --- | --- | --- | --- | --- | --- | --- |
| Ajax Revenues (EUR000) | 2004/05 | 2005/06 | 2006/07 | 2007/08 | 2008/09 | % gr 09/05 |
| Ticketing income |   |   |   |   |   |   |
| Europe | 9344 | 13304 | 4385 | 1111 | 5055 | -46% |
| Season tickets | 8999 | 8662 | 9280 | 9850 | 10122 | 12% |
| Other tickets | 3418 | 5298 | 6646 | 6040 | 4232 | 24% |
| Other | 1970 | 1030 | 1035 | 2129 | 786 | -60% |
| Total Matchday | 23731 | 28294 | 21346 | 19130 | 20195 | -15% |
| Total ex Europe | 14387 | 14990 | 16961 | 18019 | 15140 | 5% |
|   |   |   |   |   |   |   |
| Media income | 8260 | 11871 | 8834 | 8207 | 5479 | -34% |
|   |   |   |   |   |   |   |
| Sponsoring | 18868 | 19328 | 18759 | 18781 | 25280 | 34% |
| Skyboxes | 9586 | 9513 | 9833 | 10198 | 10031 | 5% |
| Merchandising | 6180 | 5424 | 6119 | 5576 | 6169 | 0% |
| Commercial income total | 34634 | 34265 | 34711 | 34555 | 41480 | 20% |
|   |   |   |   |   |   |   |
| Total revenues | 66625 | 74430 | 64891 | 61892 | 67154 | 1% |
| Total ex Europe | 57281 | 61126 | 60506 | 60781 | 62099 | 8% |
| Total Ex Europe + media | 49021 | 49255 | 51672 | 52574 | 56620 | 16% |
Ajax: 5 year revenue growth has been very disappointing.  Let's first look at Ajax current growth and revenue mix. Revenues in general mainly consist of commercial revenues, media income and revenues generated during matchday. Over the last 5 years Ajax has barely been able to substantially grow its total revenues. In fact since the 2004/05 season, total revenues have grown by just 1% in total from EUR 66.6mln in 04/05 to EUR 67.1mln in 08/09. Revenues peaked in 2005/06 at EUR 74.4mln, but it has to be said that during that year both media revenues and matchday revenues peaked, mainly the result of the club being active in the Champions League. Because these items (media and champions league income) have an exceptional nature, they distort the picture: media income has come down as the Dutch Eredivisie exploits the television rights as an entity and Ajax has not included the income of the exploited channel as of yet, whilst income from European competitions was EUR 8mln higher in 2005/06 when compared with 2008/09. When stripping out these exceptional items, total underlying revenues have increased by 16%, equaling less than 3% growth per annum and particularly helped through a strong increase of 34% in sponsoring revenues in 2008/09. Without this jump in sponsor income, Ajax revenues would not have shown any increase whatsoever. 16% underlying revenue growth over a period of 5 years may look decent but for a club such as Ajax, but this is a very poor performance of course, certainly when compared to most top 20 clubs, of which most have been able to grow their revenues substantially across the line, so not only in media. Particularly the limited increase in matchday revenues, in merchandising and in sponsoring (with the exception of last year) is disappointing.  
What could Ajax do to bridge the gap with the other clubs without being too dependent on media income? I believe the main strategies forward can be summarized as follows:
Ajax has to improve its Customer Relationship Management. The Ajax brand identity is exceptional and known across the world and hence should attract many fans. B2B and B2C relationships can both still be significantly improved and exploited. The national fanbase of both Ajax and Manchester United are pretty much equal with around 4mln fans. However, the international fanbase of United is many times higher than that of Ajax as United has been much more aggressive in marketing the club abroad. Ajax has cautiously entered China now but could be much more aggressive as revenues from commercial income blatantly prove. Ajax still has a great image and brand value; young and very talented players, offering attractive and spectacular football. Cruyff, van Basten and Bergkamp are just a few names which represent the brand. Their fame will be eternal but if Ajax waits too long the association with the club being a producer of talent will fade away. Fan connection and CRM should hence obtain much ore attention. As a result commercial income (both sponsoring and merchandising could grow much faster)
Matchday revenues could be raised. Again when looking at the figures, one can conclude that matchday revenues over the last 5 years have grown by less than 1% per annum. Clearly it is more difficult to grow revenues when you already attract full capacity crowds, but improved yield management could possibly lead to higher revenues.  When analyzing the top 20 clubs in Europe, one can conclude that with the exception of Borussia Dortmund (explained by the fact that it has many cheaper standing places), Ajax generates the lowest income per seat, whereas it is in the top 10 of Europe as far as average attendance is concerned. Better yield management (has price elasticity ever been checked), on site sales and the likely expansion of the stadium should lead to higher matchday revenues.
Lack of media income remains a problem. Nevertheless these strategies are unlikely to compensate the lack of media income which is holding the club back. The lack of media income is and will remain a problem as long as Ajax is playing in a small country like the Netherlands. Clearly the club has been trying to market the right of its games itself but as long as it is a member of the Dutch National League, this will remain a problem. It's only hope in this perspective would be the formation of a European Superleague or a merger of several national competitions. However, both seem to be far away at this moment.
Youth and consistency should be name of the game! As a conclusion one can state that Ajax is unlikely to enter the top 20 on a sustainable basis without regular Champions League performances and without putting more emphasis on the items discussed above. As the rich get richer and the poor get poorer, strategy should hence be into this direction. As Ajax is unable to generate sufficient income to attract the best players in the world, it should get back to its roots/values and brand identity; young technical players that can excite the crowd and stand for attractive football. As the club has potentially the biggest revenue base in The Netherlands, it should be able to attract the best young players and with this increased focus, it could possibly be active more often in the Champions League than it did during the last few years. Moreover by being a breeding ground of talent this could lead to an extra source of revenue. Only by being consistent going forward, such a scenario is possible. It is this way the club aims to be going. Consistency will hence be the proof of the pudding, let's wait and see whether the club will be able to execute this.