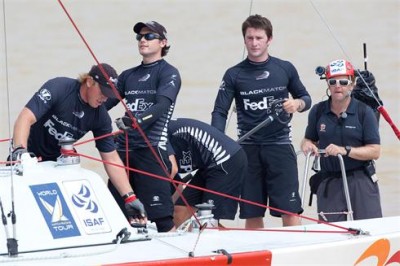 This weekend Adam Minoprio and his ETNZ/Blackmatch Racing crew were crowned as the new world champions of the ISAF World Match Racing Championships series, winning the Monsoon Cup in Malaysia, the last race of the circuit. The finals were telecasted live and clearly demonstrated that matchracing is fun to watch and very suitable for television in contrast with for example fleet racing. With modern on board coverage and back-up graphic tools, the viewer is enjoying a live-man-to-man yachting experience. Adding the fact that match racing in the WMRC format should be attractive for sponsors spectators and cities and taking into account the growth of the sports, I believe match racing has a great future ahead.
Matchracing, skill, tactics and savvy required! A match race can be described as a duel between two identically-matched boats with a winner – and a loser. Match racing has its own set of rules, which are slightly different from the regular racing rules that create very close, aggressive competition. It also has on-the-water judging, with umpires doling out "instant justice" on the water. Match racing is tremendously exciting to participate in. And, unlike watching other sailing competitions, match racing can be thrilling to watch. Before the start, the boats vie for control, circling each other and trying to wipe each other off on spectator boats in an elaborate game of cat and mouse. After the start the boats will sail to an upwind mark, round it, hoist the spinnaker and sail to the downwind mark. The boats will round the marks 2-3 times before the winner crosses the finish line. Unlike fleet racing you have only one opponent; hence tactics are quite different and there are plenty of different ways to win a race.
Fun to watch both on television and ashore, enjoy the experience! The format chosen by the World Match Racing Tour is one made for both television and live spectators. A race is relatively short and last around 20 minutes and is packed with action. As the course is short and can be set close ashore, spectators have a perfect view on what is happening. Races are short, fun, fast and furious. Additionally Match Racing is also ideally suited for television. I was commentating the semi finals and finals of the Monsoon Cup this weekend and felt part of the experience, it's fantastic, it is as if you are participating in the race. There is a bow cam, a mast cam and a cameraman on-board. This does not only result in spectacular views, it also gives better insight in what tactical choices are being made (you can overhear the conversation between skipper and tactician). If there is a collision (and they happen quite frequently), you see it happening with your own eyes and hear the cursing on-board, you are part of the crew. Apart from this, computer graphical software provide you instant information on distances towards the mark, boat speed, laylines etc. Unlike fleet racing, this makes it much easier to see who has the advantage. After a race there is an immediate interview with the skipper, who explains what has happened. Concluding, you barely have time to breathe and it is far better than the coverage of the last America's Cup. I am sure this is the way how sailing will be televised in the future.
Match Racing should enjoy further growth in the future. Match Racing appears to become slowly more popular over time, but growth should actually accelerate. Firstly, in the current format the sport seems to become more attractive to the public, which should give it a boost. Secondly Match Racing will become Olympic in 2012 for women only but men may follow later. Thirdly, colleges in the US now will finally switch towards match racing and as America is lagging behind Europe, this could be a catalyst for further growth. Fourthly, the attention for Match Racing should also increase as the world's top yachtsmen are actually participating. There are few opportunities where you see top-notch skippers such as 3x Olympic Gold Winner Ben Ainslee and Peter Gilmour fighting against each other. Moreover Match Racing has always been recognized as the source of America's Cup sailing talent
Match Racing should be attractive to all user groups. Match Racing has all the ingredients to become more popular. For spectators and television audience the sports is attractive and with the right investments can be put to the next level. For sailors Match Racing is an ideal opportunity to show their skills, whilst offering an opportunity to develop their sports and earning decent money with it. For sponsors, match racing offers a wide array of opportunities. Sponsoring of teams (Emirates Team New Zealand, Team Origin are just a few examples) could easily be leveraged, whilst the events offer great on-site opportunities for client entertainment. Moreover, it also offers a good platform for city marketing, as the sport lends itself ideally for in-port racing and should be significantly less expensive than for example hosting a stopover of the Volvo Ocean Race
If taken to the next level…..The product can clearly be further enhanced and will require further investments. If done properly, it could become a mainstream event and hence should result in very decent returns. Peter Gilmour (who is one of the investors in the WMRT) recently stated that he believes the Americas Cup is a good example; "in 1983 it was just a small regatta off Newport, Rhode Island and it grew to a point that it charged tens of millions of dollars for television rights, sponsorship and so forth in 2007 in Valencia. Nobody would have believed that 25 years ago and I think it just needs a little bit of that same style of thinking. This is the second level down, the second main event of match racing in the world and certainly has a great opportunity to grow and expand itself". As a start the organisation will extend the number of races in the coming few years. I would not be surprised seeing the sport taking off during these years.